<< Back
Chiropractic Care for "Frozen Shoulder"
- Tuesday, December 13, 2022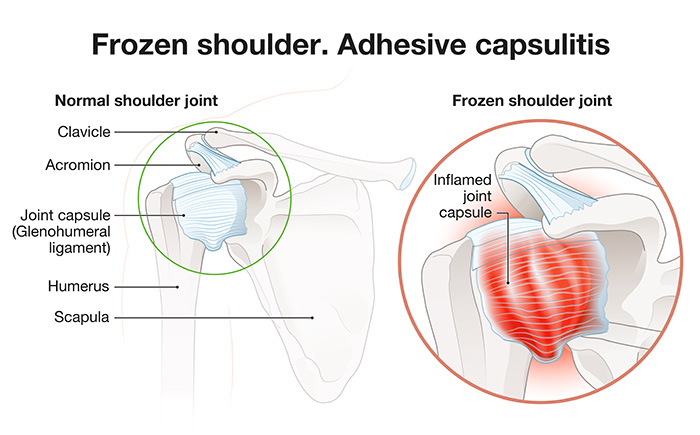 Suffering from pain associated with frozen shoulder? Did you know that chiropractic treatment for frozen shoulder has offered real pain mitigation results for countless people like you? For some, real pain relief is enjoyed after the first treatment. You most definitely should give chiropractic due consideration.
Shoulder pain and stiffness is a common complaint. This is often due to thickening in the capsules surrounding the shoulder joints. As a result, the shoulder joint becomes difficult to move. Our chiropractic care clinic here in NYC has x-ray, other diagnostic tools, and the extensive education and experience to comprehensively assess the patient. Chiropractic can help reduce (if not completely eliminate) the pain, improve the shoulder's range of motion and speed recovery. The chiropractic care treatment will depend on the symptoms of the patient at present, how progressed the condition is and how long the patient has had the condition. One chiropractic treatment technique being used is Niel Asher Technique. It involves the manipulation of the joints and muscle tissues. The chiropractor will apply pressure and stretch key points that will help reduce pain and resolve the condition. It will make a tremendous difference in the patient's well-being.
The Niel Asher Technique is a natural method of treatment that utilizes the body's own healing mechanisms. There are no drugs, no surgery used. It is done through a technique that uses a specific and unique sequence of manipulations and pressure points to the shoulder joints and soft tissues. This has been used and adopted by doctors, physiotherapists, chiropractors, and others. It is very effective and works with the body as a gentle stimulation is applied to the muscles while they are resting.
Contact West Side Comprehensive Chiropractic Care and let us help you address your frozen shoulder pain.