Electrical Muscle Stimulation
---
Conveniently located on 58th Street in Manhattan, New York City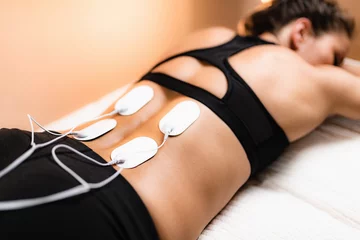 Electrical Muscle Stimulation also known as e-stim or electrostim, is a physical therapy method performed to re-stimulate the muscles' ability to contract. An improved muscle contraction can help relieve the pain, promote good circulation, encourage tissue healing, increase range of motion and physical functioning, and help control inflammation.
E-stim is also recommended to patients with spinal cord injury and other neuromuscular conditions.
How is E-stim Treatment Done?
The treatment makes use of electrodes that are attached to a specialized machine and are positioned around the injured area of the back and neck. However, the exact positioning greatly depends on the purpose of the treatment, also to the depth your therapist aims for the current to reach. Commonly, the electrodes are positioned close to the motor point of a muscle in order for the precise contraction to happen. The therapist will regulate the electrical stimulation with the intention of achieving a good contraction with little discomfort.
If you believe you could benefit from high-quality care, consider getting treatment from the staff at West Side Comprehensive Chiropractic. Our dedicated staff will be pleased to answer your questions today. We can also help you schedule a time to visit our New York office.
Call Us: (212) 765-6470
Email: frontdesk@drwatins.com